Chicago, IL; San Jose, CA; Newark, NJ; New York City, NY
Founded in 2013
bebraven.org
Snapshot
Braven is a nonprofit organization that helps first-generation college students, students from low-income backgrounds, and students of color develop the skills, confidence, experiences, and networks necessary to transition from college to strong first jobs.
Relationship Map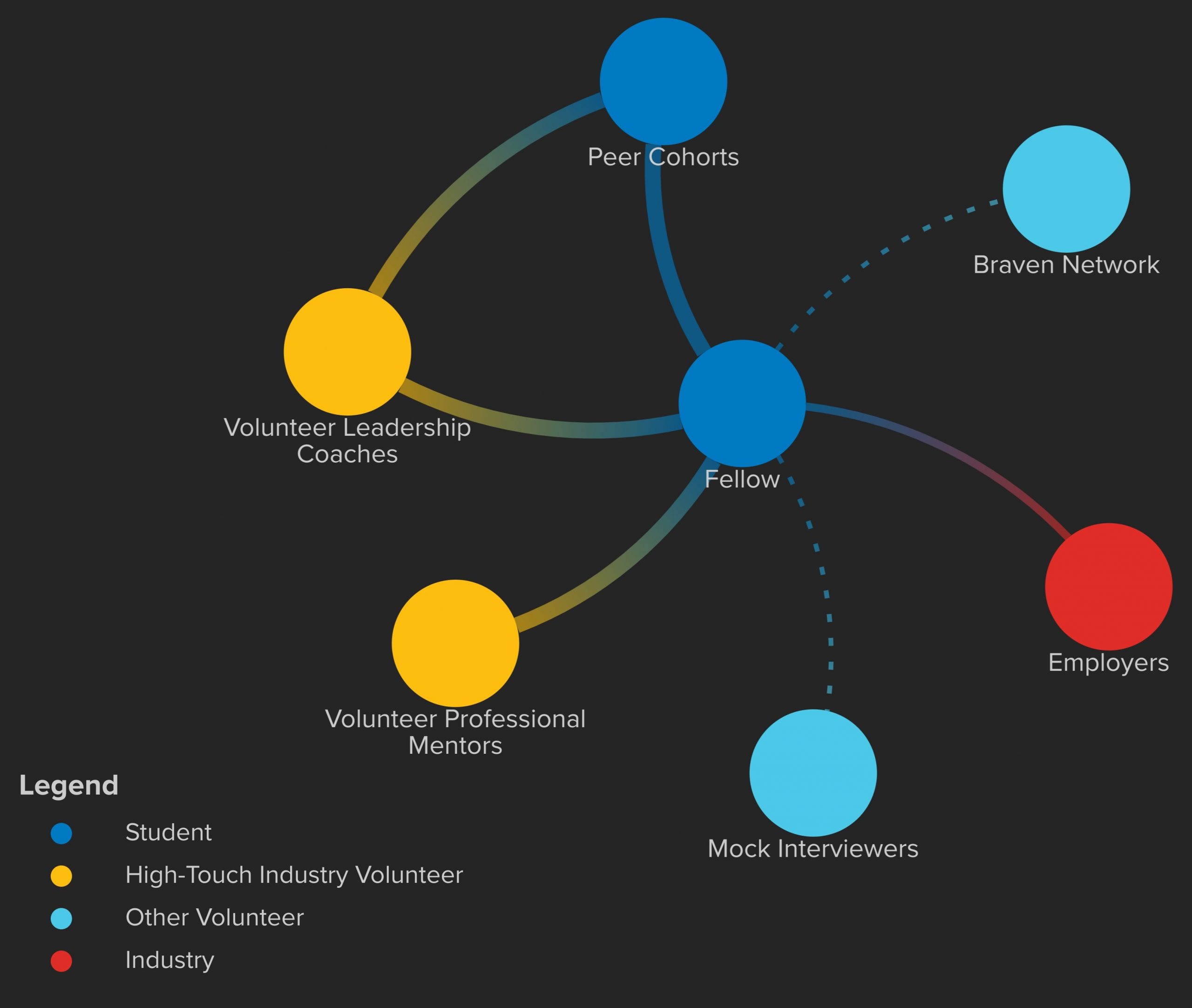 This KUMU map illustrates the web of relationships put within reach for students. Thicker lines indicate strong relationship ties (daily to weekly contact). Dotted lines indicate weak relationship ties (less frequent contact).
Stronger Ties
Peers, Leadership Coaches, and Professional Mentors.
Weaker Ties
Employers, Mock Interviewers, and Braven Network.
Key Design Insight
Braven's flagship Accelerator course offers college credit and explicitly arms students with networking skills and access to new networks of both peers and professionals.
How Braven
builds social capital
Braven builds program participants' social capital by putting peer and near-peer relationships within reach and teaching the networking skills needed to mobilize these new relationships. Those who attend Braven's flagship Accelerator course, known as Fellows, learn and work together in cohorts in a semester-long, for-credit course, sharing personal stories to build community, opening up networks for each other, practicing networking skills together, and tackling real-world projects in small teams. Leadership Coaches guide Fellows during the course and make their own professional networks and work environments available to Fellows. After completing the course, Braven Fellows receive ongoing support through graduation. One example of this is the Professional Mentor program, where Post Accelerator Fellows are paired with a mentor during the internship and/or job application processes. Finally, Braven provides Fellows with opportunities to meet prospective employers, volunteer professionals, and others in the Braven Network.
The Braven Cohort Experience
Braven partners with large, public universities to reach the very students traditional institutions often struggle to serve well, namely those who are first-generation, low-income, and/or of color. What Braven calls the "Braven equation" sums up its aim: Social Capital + Career Skills + Experiences + Confidence = A Career-Ready College Graduate.
Braven's flagship program consists of a semester-long, for-credit "Braven Accelerator" course followed by optional mentoring through graduation. The course is designed to provide its Fellows with a network of support, a sense of belonging, and a career education in their undergraduate experience. The majority of students take the course during their sophomore year, or their junior year if they've transferred to the partner institution. Before the pandemic, the course combined online content with in-person cohort experiences led by Leadership Coaches. In response to COVID-19, Braven went fully virtual in Spring 2020.
During the 15-week Accelerator course, Fellows engage in skill-building practice and real-world experiences with their cohort of five to eight learners, led by a volunteer Leadership Coach. The first third of the course, called "Design Your Career," helps students identify their own strengths, discover career paths that align with those strengths, and share their personal stories with one another. The second part of the course is the "Hustle to Career" portion, in which students learn and practice the skills they'll need to actually land a job or internship, including building their resumes, doing mock interviews, and applying for jobs. The course culminates with "The Capstone Challenge," a five-week, small cohort experience in which Fellows develop possible solutions to a complex, real-world problem. Braven sources these challenges from its 55 employer partners, giving Fellows an opportunity to cultivate problem-solving, teamwork, and presentation skills. 
After finishing the course, Fellows have access to a variety of supports through graduation, including ongoing skill-building and networking events with peers and employers, a jobs/internships board, and additional coaching and mentorship from volunteer professionals currently in the workforce. For Fellows who are within one year of graduation, or who have already graduated, Braven provides the option of participating in the Professional Mentor (PM) program. The PM program provides 12 weeks of mentorship with a volunteer already working in the Fellow's area of interest. Braven also hires some of its qualified graduates for internships.
In response to COVID-19, Braven also started offering graduating seniors in institutions outside its current group of core partners the "Career Booster" program, a two-week online course that covers the job application process, contingency planning, and networking and interviewing skills. Throughout the interactive workshops, students engage with their peers nationwide. They also have access to a 1:1 coaching session with a Career Prep partner who provides feedback on their interviewing skills and resumes and helps them build their network. Booster participants also are able to join the Braven National Network for ongoing support via LinkedIn.
Relationships Built
Peers: Fellows interact with their cohort of five to eight peers weekly during the Accelerator course, and have the opportunity to engage in Braven Campus Clubs after completing the course. Fellows are encouraged to share their personal stories and engage in networking and communication practice with each other. Those who participate in the Career Booster course also engage with their peers during the two-week program.
Leadership Coach: Fellows meet as a cohort with a Leadership Coach weekly during the semester-long Braven Accelerator course. Leadership Coaches, volunteer professionals who work for local employers, including employer partners such as LinkedIn, are expected to not only facilitate course sessions, but also to open their networks to, and advocate for, their Fellows. In coaching Fellows, Leadership Coaches also generate value for themselves and their employers by developing leadership skills and connections to a diverse talent pipeline.
Professional Mentor: Fellows who have completed the Accelerator course but who want additional support after can turn to volunteer Professional Mentors (PM). Fellows meet with PMs weekly over the course of 12 weeks, getting help with the job or internship application process and cultivating professional polish. Braven aims to pair Fellows with PMs who work in the Fellow's desired professional field.
Mock Interviewers: Fellows can practice/simulate their interviewing skills with Mock Interviewers, professional volunteers that make themselves available for one evening each semester.
Career Prep Partners: Students in the Career Booster program work with Career Prep Partners, volunteer professionals that Braven draws from local employers, over the course of the two weeks. Career Prep Partners facilitate one-hour coaching sessions with participants in which they provide feedback on resumes and interview skills, and ensure that students leave with clear next steps.
Employers: Fellows benefit from employer engagement on several levels throughout the Accelerator course, including site visits (pre-COVID) to local employers, opportunities to troubleshoot real challenges in the Capstone Challenge, and job and internship postings. Further, employer partners are a key source of professional volunteers such as Leadership Coaches, Professional Mentors, and Mock Interviewers.
Panel of Professionals: Fellows gain exposure to panels of professionals throughout the course who speak on a variety of relevant career topics. Many Fellows continue to build relationships with the professionals after these events via LinkedIn and through exercises like informational interviews.
Design Tools & Tips
Have a strong survey protocol. Braven dedicates considerable resources to collecting data at regular intervals, including baseline data through a pre-program survey, weekly surveys throughout the course, and a post-course survey. Through these surveys, Braven explicitly tracks students' social capital development along several axes (more on this below).
Enlist early-career young professionals to coach students. Braven enlists a cadre of near-peers to serve as Leadership Coaches and Career Prep Mentors, providing Fellows with up-to-date perspectives on navigating the job market. The volunteering experience also proves fruitful for the young professionals, not just as an enriching experience but as a learning and development opportunity. Roughly 92% of Leadership Coaches report that the experience was an excellent professional development experience, and 99% report that they developed and practiced skills transferable to their own professional development and goals.
Provide Fellows with ongoing post-course support. Braven makes available to its Fellows several avenues through which to continue cultivating skills and relationships in a guided, structured way after the Accelerator course. The program's core outcomes metrics include persistence, graduation, job placement rates, and post-graduation earnings. To that end, Braven provides ongoing social capital-building support both on its own merits and in service of these longer-term outcomes, including Braven student organizations, access to individualized mentorship, and multiple skill-building events.
Notable Results
22%

The percent by which Braven Fellows' job attainment rate outpaces the overall demographic of Black and Latinx students at public universities.

95%

The rate at which Fellows persist in or graduate from college.

$50-$55K

The median starting salary of Fellows, compared to a median of $48,000 for all graduates of public four-year institutions.