San Francisco Bay Area, CA; Denver, CO
Founded in 2019
climbhire.co
Snapshot
Climb Hire is a non-profit training provider that prepares diverse, high-potential, working adults for the Salesforce Administrator Certification so that they can break out of minimum wage jobs and into the "new collar" economy.
Relationship Map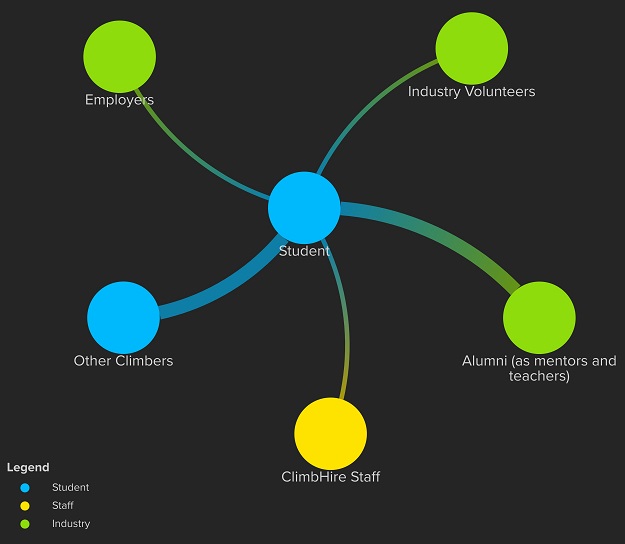 This KUMU map illustrates the web of relationships put within reach for students. Thicker lines indicate strong relationship ties (daily to weekly contact). Dotted lines indicate weak relationship ties (less frequent contact).
Stronger Ties
Other "Climbers" and alumni Fellows.
Weaker Ties
Climb Hire staff, employers, and industry volunteers.
Key Design Insight
Climb Hire makes social capital-building an explicit component of every relationship and invites alumni to serve as near-peer leaders and facilitate the training of current participants.
How Climb Hire
builds social capital
Climb Hire builds program participants', known as "Climbers," social capital through a peer-to-peer cohort model in which Climbers build community and refer each other to job openings. The program hires its alumni to work as mentors and facilitators for current Climbers, as well as eventual brokers of relationships between Climbers and alumni's full-time employers. Climb Hire also connects Climbers to industry professionals throughout the program, who help with behavioral mock interviews and technical interviews, and who are also asked to stay connected to Climbers whom they might hire or for whom they might advocate in the future. Throughout the program, the Climb Hire curriculum explicitly teaches the concept of social capital-building, equipping Climbers with strategies to tap their existing networks and form new connections in the technology sector. Finally, all Climbers must complete a Capstone Project in which they build teamwork skills and have opportunities to showcase their hard and soft skills to
prospective employers.
The Climb Hire Cohort Experience
While Climb Hire does teach hard skills to prepare Climbers for the Salesforce Administrator certification, the program dedicates at least as much attention to helping Climbers intentionally and strategically cultivate relationships with fellow Climbers and prospective employers. The program consists of 150 hours of online classes that take place on evenings, split evenly between hard and soft skills training. It also includes a real-world Capstone Project and opportunities to engage with the community outside of class time, including volunteer events in which Climbers connect with industry professionals. 
Climb Hire developed a peer-to-peer cohort model in which Climbers provide each other with support and care even as they practice networking skills. The fellowship fosters an environment in which Climbers and near-peer alumni Fellows share their stories of breaking into the "new collar" economy. By treating these lived experiences as assets, Climb Hire aims to motivate and foster solidarity among Climbers. 
The program reinforces this sense of community through its financial model as well, hiring alumni Fellows to work as facilitators and mentors. Once alumni find a job and earn an annual salary of at least $45,000 in the Bay Area, or $39,000 in Colorado, they help pay for the training of future Climbers through monthly contributions of $150. This alignment of personal, professional, and financial incentives around community-building and relationships puts social capital-building at the heart of Climb Hire's model.
For initial cohorts, Climb Hire has directly brokered connections with employers and industry professionals. As the alumni network grows and establishes itself, Climb Hire aims to shift more of that employer-connecting role to its alumni, helping alumni continue their networking skills development. If alumni Fellows are able to leverage their social capital to help current Climbers succeed, the program can continue to scale efficiently—Climb Hire expects Cohort 3 to have 100-120 Climbers divided into two classes, more than double the previous cohort size.
Relationships Built
Peers: Climb Hire fosters an environment in which each cohort also becomes a social network where social support and information-sharing are explicit expectations. The curriculum makes visible the role of social capital in finding employment and encourages Climbers to refer each other to job openings and share back learnings from relevant experiences such as job interviews. The program is also iterating on specific peer support models, introducing peer "success buddies" whom Climbers can turn to for assignment and job support, and exploring "gratitude circles" at the end of each class session to build community and trust.
Alumni Fellows: Climb Hire alumni who secure jobs and/or successfully pass the Salesforce Admin certification exam can apply to return to work as Fellows, which entails mentoring and facilitating class in smaller breakout rooms during the bi-weekly three-hour sessions. They also complete weekly coaching calls with a small group of four to five Climbers. The program is working to increase Fellows' capacity to teach and broker connections with employers.
Industry Professionals: Climb Hire frequently invites industry professionals from technology companies to help Climbers improve their soft skills and prepare for job interviews. The program makes clear the importance of building social capital with these professionals as a learning opportunity, in addition to a relationship-development one. Climb Hire anticipates holding as many as five events connecting Climbers in the next cohort with industry professionals, ideally meeting eight to ten professionals and establishing strong individual relationships when they make sense, and in which the volunteers will have an opportunity to reflect on the role that networks and relationships played in their own professional lives.
Employers: Climb Hire invites prospective employers to meet Climbers at signature events that it dubs "social capital events"—typically dinners and happy hours, but now only virtual options—encouraging Climbers to use their newly formed relationship skills and to make connections in industry. 
Climb Hire Staff: Climb Hire staff initially delivered much of the program's instruction. As these responsibilities have shifted to Fellows, the staff's relationship with Climbers is transitioning largely to one-on-one appointments on an as-needed basis. Climb Hire's staff now carries out weekly training sessions with Fellows. Further, Fellows individually report to staff once a month on their small group work with Climbers, in addition to regular notes on their four to five Climber mentees' progress and challenges. Finally, staff vouch for Climbers and alumni among their own networks.
Design Tools & Tips
Make the importance of social capital transparent. Climb Hire is not a program in which participants absorb good networking habits implicitly or through osmosis. Rather, the program repeatedly and consistently emphasizes the importance of relationships and connections in each facet of the curriculum and community-building approach. Access to new relationships with both peers and industry professionals is a core value proposition in addition to helping develop hard skills.
Create pathways to community-building. Climb Hire centers its peer-to-peer cohort model around sharing information, mutual support, and intentionality. By encouraging Climbers to share their experiences, and by introducing structured relationships among peers, such as the Success Buddies system, Climb Hire scaffolds community- and relationship-building skills. The Capstone Project also requires teamwork and collaboration.
Collect relationship-specific data. Climb Hire engages participants in middle and end-of-program focus groups, some led by alumni and others by staff members. Questions focus on Climbers' experiences with alumni mentors, the perceived quality of relationships developed within the cohort relative to outside the program, and other relationship-specific queries. Such data can shed light on the impact of Climb Hire-specific relationships on metrics such as graduation rate, job placement, and earnings outcomes.
Notable Results
8 weeks

The time it took to place 31% of the most recent cohort in jobs/internships paying at least $45,000. Average salary is $57k—which represents a doubling or tripling of the Climbers income.

62%

Percent of the most recent cohort that passed their Salesforce Certification Exam within eight weeks of completing the program.

58%

Percentage of the most recent cohort that signed up to serve as near-peer leaders.