Denver, CO
Founded in 2008
crosspurpose.org
Snapshot
CrossPurpose is a tuition-free school that provides career development and placement for adults to lift participants out of poverty.
Relationship Map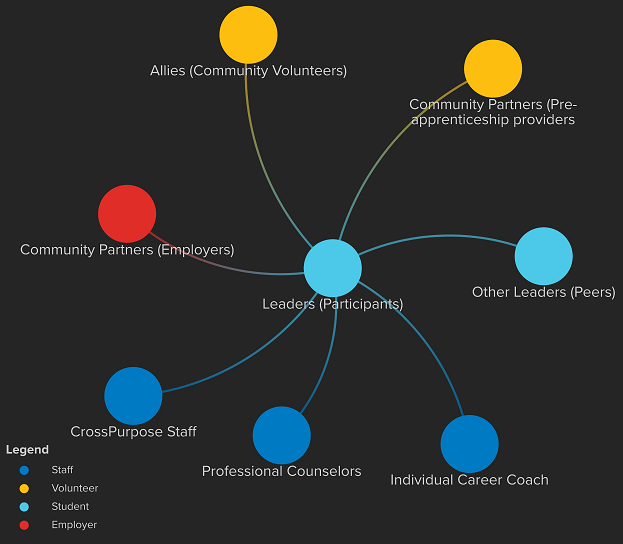 This Kumu map illustrates the web of relationships put within reach for students. Thicker lines indicate strong relationship ties (daily to weekly contact). Dotted lines indicate weak relationship ties (less frequent contact).
Stronger Ties
Career coaches, peers, and community volunteers.
Weaker Ties
Employers, professional counselors, and CrossPurpose staff.
Key Design Insight
By hosting weekly "family dinners" and gatherings, and simulated "network hour" job interviews, the CrossPurpose program helps unemployed and underemployed adults gain access to mentors and professional networks beyond their current neighborhoods and communities.
How CrossPurpose
builds social capital
CrossPurpose builds participants', who they call "Leaders," social capital largely through brokering relationships with community volunteers, called "Allies," to help participants out of poverty. Allies are dedicated to walking alongside participants in a mutual mentorship relationship. Early in the program, a two-day retreat enables Leaders to form deep social bonds with each other and with Allies through storytelling and team-building exercises. These relationships are also continually fostered through weekly "family dinners and gatherings," which both Leaders and Allies attend.
The CrossPurpose Networking Experience
The CrossPurpose program focuses on helping unemployed and underemployed adults gain access to mentors and professional networks beyond their current neighborhoods and communities. All participants engage in key activities focused on forming strong connections. These include simulated "network hours," which take place throughout the first six weeks of the program during which program participants, or Leaders, are coached on how to build and mobilize networks. Participants also engage in weekly "family dinners" and gatherings, enable community-building throughout the course of the program. During the family dinners, Leaders have an opportunity to deepen relationships with Allies through a variety of activities. 
CrossPurpose recruits Leaders from all over the city of Denver. Half are recruited through partnerships and referrals and others are recruited through word-of-mouth or social media. All Leaders engage in a three-phase journey:
Personal Development. During this six-week face-to-face course, Leaders develop personally so that they can succeed professionally. This phase includes a two-day retreat during weeks four through five of the program, enabling Leaders to form deep social bonds with each other that carry through the duration of the program by means of storytelling exercises. During this retreat, Leaders also meet and begin to develop bonds with community volunteers, known as "Allies." Throughout this phase, Leaders engage in intensive 1:1 career coaching, and are introduced to a wide range of career pathways. The course also includes topics such as networking and interpersonal skills.
Skills Training. During this self-paced course that may last between four weeks and six months, approximately 80% of Leaders will complete an online certification course on campus and 20% will participate in a face-to-face pre-apprenticeship program with a local community partner. This course is designed to enable the Leader to develop skills in his or her career track.
Career Launch. During this final stage of the program, Leaders are supported to find, apply to, interview, and land a living-wage job in their new career field.
The role of churches as community hubs are also integral to the work. Some Leaders will shift their time to churches after program completion and informally facilitate and adopt the role of Allies by offering coaching and support to fellow church members.
Relationships Built
Other Leaders (peers): Leaders participate in the program in cohorts and interact daily for the first four to five months building strong bonds.
Individual Career Coaches: A team of five coaches is engaged with the Leaders every day. In their roles, they provide Leaders a minimum of six, 1:1, one-hour sessions over six months focused on Leaders' needs (e.g., applying for jobs, mock interviews) and facilitate group classes.
CrossPurpose Staff: The staff that interact with the program Leaders may include members of the admissions team, recruitment teams, and job developers. The majority of the staff will have weekly contact with the Leaders to provide support in areas such as teaching classes, helping with resumes and mock interviews, and joint lunches. Approximately five of the staff members will have daily contact. 
Professional Counselors: As needed, coaches will refer Leaders to counselors to provide professional support on targeted challenges as they arise.
Allies (community volunteers): These volunteers first receive two nights of training and then begin to take part in the weekly family gatherings. As participants of the two-day Leaders' retreat, they are able to develop deep bonds with the Leaders at the start of the program that they can then leverage to provide resources and support as needed. Allies participate in family dinners every week for six months (in groups of 8-12) and engage in activities such as art projects, sharing of self, and community-building. Allies are encouraged to connect with Leaders outside of the weekly family gatherings. They will periodically be offered gift cards to enjoy meals at neighborhood spaces. Although the program is not currently tracking this, anecdotal evidence suggests that Allies tend to re-engage with Leaders after experiencing the neighborhood spaces.
Employers and Apprenticeship Providers: Leaders interact with these providers once they begin their apprenticeship or job. 
Community Partners (service providers, education partners, government agencies): Career Schools and other training organizations, in particular, are the primary partners to provide Leaders career and pre-apprenticeship training. After six weeks of personal development (required for all), 20% of Leaders will receive training outside the building (e.g., ActivateIT, a partner, helps Leaders acquire jobs in the IT field). In addition, government case managers volunteer to lead weekly two-hour classes on various topics, such as budgeting. Quarterly, service providers (i.e., affordable housing) will attend events hosted by CrossPurpose and conduct three to five minute TED Talks, socialize, and swap business cards. Many of these organizations also serve as partners in the recruitment of Leaders to CrossPurpose.
Design Tools & Tips
The power of storytelling. CrossPurpose has found that its initial retreat (called Weave) offers Leaders and Allies the chance to engage in storytelling in order to build trust and relationships from the start.
Reciprocal transformation. Although Allies are technically there to support Leaders through their CrossPurpose journey, Allies are reporting that they sometimes learn more from the Leaders than they (Allies) may be giving to Leaders. This sense of a mutual mentorship relationship has proven to be an added incentive for Allies to volunteer to give their time to work with CrossPurpose.
Notable Results
88%

CrossPurpose alumni that remained employed six months after graduation and are earning an average of $16.71/hour.

72

Allies that reported creating a meaningful relationship and a reduced sense of loneliness in 2019.

15,120

Volunteer hours that Allies contributed toward the program's community requirements.
Additional Resources