Cajon Valley Union School District

El Cajon, CA
Founded in 2017
cajonvalley.net
Snapshot
Cajon Valley Union School District is a public school district that provides K–12 students with career-related learning, guided by its World of Work career development framework and curriculum.
Relationship Map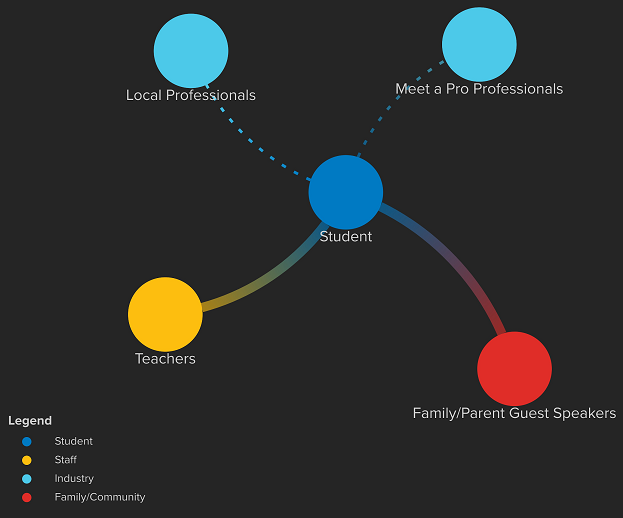 This Kumu map illustrates the web of relationships put within reach for students. Thicker lines indicate strong relationship ties (daily to weekly contact). Dotted lines indicate weak relationship ties (less frequent contact).
Stronger Ties
Teachers and parents.
Weaker Ties
Professionals and extended families.
Key Design Insight
Using a comprehensive K–12 framework integrated with the Holland RIASEC career theory, Cajon Valley helps students explore careers by meeting an array of industry professionals who help them to develop a vision of their possible future selves.
How Cajon Valley
builds social capital
Cajon Valley builds students' social capital through its self- and career exploration curriculum, the World of Work. Each school year, students explore a minimum of six careers in each of the RIASEC themes, simulate work experiences, meet professionals, and participate in demonstrations of learning. Teachers curate face-to-face or virtual engagement with professionals by leveraging their existing relationships and using Nepris, a technology tool that connects classrooms to industry experts. Students also receive support in understanding their unique strengths, interests, and workplace values to build self-awareness skills that support relationship-building. 
The Cajon Valley Self-Awareness Experience
Through its World of Work initiative, Cajon Valley Union School District provides students with early exposure to both self- and career exploration. Students engage in a career development framework called "The Mission of Me" that includes three core pillars: self-awareness, journey, and my story. Each pillar spans the entire academic year. Students develop self-awareness of their strengths, interests, and workplace values; they experience their journey into both academic and career opportunities, and they learn to tell their story based on their newfound self-awareness and exploration. 
The district bridges this work to the real-world by connecting students to career information and working professionals that match their interests. In the course of the school year, students gain experience in a minimum of six careers per grade level through a cycle of four activities: (1) exploration, in which students learn about a new job or industry; (2) simulation, in which students gain hands-on experience engaging in activities related to the job; (3) Meet-a-Pro, in which students engage in virtual tours, field trips, and industry chats with working professionals; and (4) practice, in which students hone career skills through school projects and volunteer work. 
The World of Work Initiative is expanding its curriculum into several US school districts in California, Illinois, Utah, and Texas.
Relationships Built
Teachers: Teachers serve as coaches, moderators, and advisors to students to ensure they make the most of the weak and strong ties they build with the community as they meet professionals both virtually and in the classroom. They also serve as career-development coaches and mentors to students. Teachers begin to understand their students' interests through the lens of RIASEC—a new superpower that helps them build more effective relationships by differentiating students' learning, projects, and experiences based on interests.
Family: Families are enlisted as often as possible to participate as local professionals in the World of Work experience. Parents and other family members are strongly encouraged to participate in exploration, Meet-a-Pro, and practice sessions for students, and remain accessible for students seeking to follow up to learn more about their professional experiences. By engaging in the World of Work curriculum themselves, families and parents develop a common language of RIASEC along with their children as part of a two-generational strategy. Cajon Valley also supports parents in job placement by partnering with the local workforce board to integrate the World of Work initiative. 
Professionals: Students engage in authentic and trusted experiences with professionals. Local professionals, as well as parents and family members, are invited by the teachers to share their work in-person. Others are invited through the digital platform, Nepris, to Meet-a-Pro sessions.
Design Tools & Tips
Gauging student interest and strengths. Cajon Valley designs learning so that all students gain exposure in their early years to a clear vision of who they are and what their possible futures could be (not pathways, but the type of work and problems they want to solve). To do this, the district works at making students' strengths, interests, and values visible and intentionally integrated into coursework. The district uses in-house tools for strengths and values exploration, and a tool called Vita Navis for student interest exploration.
Making relationships visible. As students become increasingly confident in their own RIASEC themes, they become kinder to other students and see the value in their unique interests and values, thereby forging stronger relationships. In addition, the Gallup Student Poll elicits statements such as, "I have a best friend at school" and "At least one teacher gets me excited about the future," making real relationships visible in the data that schools collect.
Virtual tours and field trips. Students are exposed to career pathways through the district's Meet-a-Pro initiative using Nepris technology. Nepris enables communities to connect to the classroom and introduces students to professionals across industries.
Notable Results
54%

Middle school students who reported gaining confidence in their abilities for a future job if they "personally know someone who has done this job."

69,000

Views that K-8 students experienced of live industry chats or Meet-A-Pro experiences via Nepris in just over two years.


56%

K-8 teachers who reported they feel comfortable engaging students in Meet-A-Pro experiences, compared to 31% of teachers in the year prior.