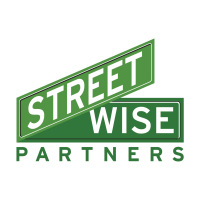 New York, NY; Washington, D.C.; and Detroit, Michigan
Founded in 1997
streetwisepartners.org
Snapshot
StreetWise Partners is a nonprofit that leverages mentorship to increase employment opportunities for adults from overlooked and under-resourced communities.
Relationship Map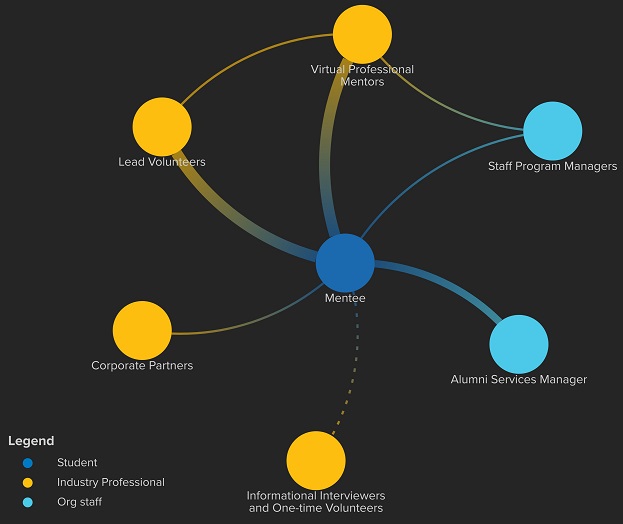 This KUMU map illustrates the web of relationships put within reach for students. Thicker lines indicate strong relationship ties (daily to weekly contact). Dotted lines indicate weak relationship ties (less frequent contact).
Stronger Ties
Virtual Professional Mentors, Lead Volunteers, and the Alumni Services Manager.
Weaker Ties
Staff Program Managers, Corporate Partners, Informational Interviewers, and One-time Volunteers.
Key Design Insight
StreetWise pairs mentors with mentees based on factors including shared interests, mentors' skills matching mentees' needs, and personality fit. StreetWise provides structured opportunities to cultivate these relationships and assigns two mentors to a mentee when appropriate.
How StreetWise Partners
builds social capital
StreetWise Partners builds mentees' social capital by pairing them with volunteer professional mentors who, in turn, provide them with skills, resources, and access to networks. Through an employer-driven curriculum, mentees participate in structured group sessions to learn networking skills, as well as coaching sessions with mentors to put those skills into practice. Throughout the year, StreetWise brokers relationships with employees at corporate partners, both as part of the curriculum and through one-time events beyond the program's typical night sessions and workshops. Mentors shift between coaching and brokering relationships based on mentees' readiness and preferences.
The StreetWise Partners Mentorship Experience
StreetWise Partners' mentees typically arrive with needed hard skills; therefore, the nonprofit's flagship 12-month Workforce Mentoring Program prioritizes connecting them with industry volunteers to provide mentorship, opportunities to develop professional skills, and access to networks. 
StreetWise matches each mentee with a volunteer professional mentor based on 1) professional interests, 2) fit between the mentee's needs and the mentor's skills, and 3) personality and communication styles. A second mentor may be assigned for additional support if StreetWise identifies gaps in mentee needs or mentor experience.  
Together with their mentors, mentees first engage in a 13-week portion of the program, consisting of weekly, structured, group night sessions. In these sessions, roughly 30 mentees and 50 volunteers come together to build professional skills, including resume and brand-building skills. StreetWise also dedicates an entire session to networking skills, which includes helping mentees understand their existing networks, how to connect with others in a professional context, how to make an elevator pitch, and more. Each session incorporates a networking activity between mentees, peers, and volunteer mentors. At the end of the 13 weeks, mentee-mentor pairs create a work plan for the following nine months, scheduling touchpoints and establishing goals.
For the remaining nine months, StreetWise invites mentee-mentor pairs to workshops and networking opportunities at events such as their "Days of Doing," where mentees get additional opportunities to engage in skill-building and networking.  StreetWise organizes these events in conjunction with corporate partners and invites program alumni working at these corporate partners to add a near-peer component to the experience. Mentors can also engage in professional development and networking, as these events typically feature industry expert panels and guest speakers. Every three months, StreetWise takes advantage of these inclusive events to assess mentees' progress on their nine-month goals.
Once mentees graduate, StreetWise works with them beyond the program. In addition to inviting alumni to the above events, StreetWise continues to connect unemployed alumni with internship and job opportunities. In NYC, their largest market, StreetWise focuses on four job functions: finance/accounting, tech, HR, and marketing/media. There is no such focus in Detroit and DC, and mentees tend to gravitate toward prominent industries in their local labor market. Streetwise has seen some of these employed graduates come back to do some mentoring themselves.
Relationships Built
Professional Mentors: Mentees engage with, and build relationships with, mentors on a weekly basis during the 13 weekly, structured sessions. Mentors then help mentees establish nine-month goals and work with them one-to-one, based on their agreed-upon work plan, and at StreetWise events to help them achieve those goals.
Lead Volunteer: Mentees interact weekly with Lead Volunteers (former mentors), who oversee six or seven mentor-mentee pairs. Lead Volunteers sit with the pairs, connecting and problem-solving with them, and are responsible for looking over deliverables and resumes, and bringing issues to staff. Lead Volunteers are available for additional contact outside weekly meetings, if necessary, to address issues.
One-time Volunteers: Mentees practice their new professional skills with one-time volunteers at activities like speed networking events and mock interview days.
Informational Interview Volunteers: Mentees carry out at least four informational interviews as part of the curriculum, lasting roughly 30-45 minutes each. Interviews typically cover the volunteer's career path, job function, industry, company, etc.
Program Managers: Mentees also have access to Program Managers, paid staff members who carry out mentor-mentee matching, oversee Lead Volunteers, oversee weekly sessions, deliver content, and address any challenges that arise. During COVID, Program Managers engage directly with mentees less frequently than when the program was held in-person, mainly if a mentee needs social service resources.
Alumni Services Manager: Mentees begin working with the Alumni Services Manager as they approach the end of the 13-week portion of the program. The Alumni Services Manager, which currently only serves the New York City region, serves as a broker between alumni and employment opportunities.
Corporate Partners: Mentees have opportunities to attend "Days of Doing" events roughly three times per month at various corporations, some of which already employ volunteer mentors. Each event focuses on a topic relevant to mentees' job search and career success, providing new learning opportunities and helping mentees expand their networks. StreetWise alumni are also invited to attend, both to network and to access skill-building opportunities.
Design Tools & Tips
Survey consistently and often. StreetWise carries out surveys at several points along the mentee's journey, including at the beginning of the program, after the 13-week portion, then six months later, then one year later. By repeatedly gauging the size and strength of mentees' networks, StreetWise can identify opportunities for improvement and make necessary pivots. 
Survey thoughtfully. The wording of survey questions can make or break a clear understanding of how program participants are doing. For example, in one of StreetWise's previous surveys, "Are you still connected to your mentor?" wasn't getting at the right information, since the definition of "still connected" was ambiguous. As a result, survey responses revealed the number of connections decreasing for mentees, even though their networks had been growing. It takes asking the right questions in the right way to get the right answers.
Notable Results
85%

Mentees who graduate from the program.

70%

Proportion of mentees who find jobs within one year of completing the 13-week program.


4.6x

The factor by which StreetWise graduates' annual income grows relative to income before enrolling.
Additional Resources