Chicago, IL; Newark, NJ; New York City, NY; San Antonio, TX;
Seattle, WA
Founded in 2017
nxueducation.org
Snapshot
nXu is a nonprofit that provides in-school and out-of-school programming, purpose-development curriculum, and educator training to equip high school youth and adult educators to explore, articulate, and pursue their purpose.
Relationship Map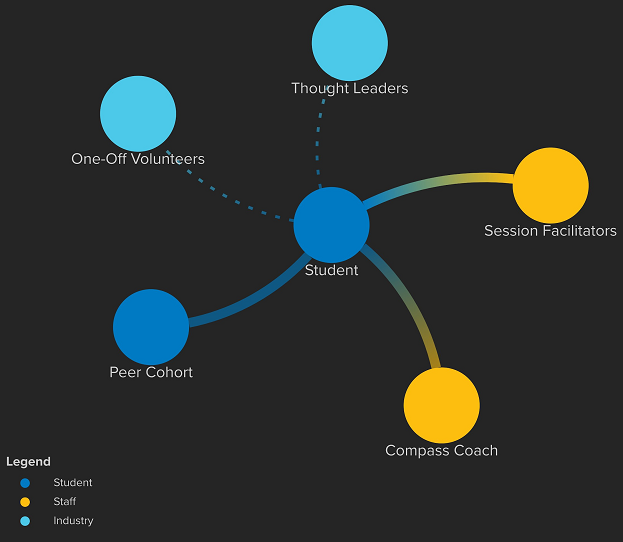 This Kumu map illustrates the web of relationships put within reach for students. Thicker lines indicate strong relationship ties (daily to weekly contact). Dotted lines indicate weak relationship ties (less frequent contact).
Stronger Ties
Peer cohorts, Compass Coaches, and session facilitators.
Weaker Ties
Thought leaders and one-off volunteers.
Key Design Insight
Using its "Compass" methodology, nXu guides students to develop an inner compass, or sense of purpose. The approach includes intentional community-building and deep reflective work to support students in sharing things with one another that they normally don't in school. Through sharing, they discover their own assets and strengths.
How nXu
builds social capital
nXu builds students' social capital through engagement with mentors called "Compass Coaches" and through peer-to-peer relationship-building. Coaches range from college-aged students to experienced professionals. The Coaches, by design, guide students through reflective and community-building activities to develop a clear sense of who they are. In the process, students cultivate deep relationships with their peers and Coaches. The program is grounded in the belief that students benefit from interacting with those who may be different from them. The peer cohorts are therefore intentionally socioeconomically diverse. Students also get to know multiple Coaches in the course of the fellowship.
The nXu Coaching Experience
nXu's offerings include teacher trainings, a purpose-development curriculum, direct student programming in schools, and partnerships to support schools and organizations to deeply embed purpose-development programming into their program models. In addition, nXu operates out-of-school programming in the form of a fellowship program that serves as a "learning lab" to inform the rest of its trainings and curriculum.
nXu's overall curriculum and programming, including the fellowship, are anchored around a four-phase purpose-development methodology called "The Compass" which includes the following graduate aims: (1) Build my community, by fostering a sense of belonging and a supportive community that can serve as a secure base from which to launch their purpose journeys; (2) Know myself, fostering a sense of self-awareness; (3) Expand my perspective, encouraging students to break from their comfort zone and look toward the future with a sense of openness; and (4) Take initiative, fostering a sense of agency and preparing them to take initiative to pursue their purpose. 
The nXu fellowship itself is a one-year out-of-school program that selects high school students from diverse district, charter, private, and parochial schools. The fellowship prepares 10th-graders to navigate life beyond high school with a clear sense of who they are and what they want out of life. The program takes place over 14 weekend days over the school year. Fellows gather twice a month for four-hour sessions that include engaging activities, reflections, and authentic conversations. Students taking part in the fellowship participate in an immersive retreat to initiate 10th-graders into the nXu community. Over the course of the year, nXu coaches students to know themselves, build their community, expand their perspectives, take initiative, and, ultimately, develop a sense of purpose. Fellows draft a life purpose statement bolstered by individual and group coaching as well as professional preparation through career exposure and skills training. Finally, fellows translate their life purpose statements into a life vision statement and a personal "purpose project" that addresses a meaningful need in the world.
Relationships Built
Compass Coaches: Coaches are volunteers who lead the twice a month, four-hour sessions for fellows that immerse them in engaging activities, reflections, and authentic conversations. The students get to know multiple Coaches, ranging from college-aged students to experienced professionals. Each cohort is supported by an experienced facilitator who supports both the Coaches and the student participants.
Peer Groups: nXu's fellowship program is intentionally diverse. While nXu has focused on serving low-income minority students, it has also intentionally included students from wealthier backgrounds because they believe that all students benefit from being a part of an intentionally diverse cohort. These cohorts engage in experiences together through the course of the year-long program. nXu has initial evidence suggesting that students are creating substantive connections beyond program days.
Session Facilitators: Every session is led by an experienced facilitator who leads each cohort of students through sessions. These facilitators also support the Compass Coaches as needed.
One-off Volunteers: Additional volunteers, based on interest and need, are pulled into the sessions as needed. They participate either face-to-face or virtually.
Design Tools & Tips
Unleashing community assets and connections. The first phase of the nXu curriculum prioritizes "building community." nXu has found that many schools are structurally not set up to build meaningful connections and community across students and staff. But with the right learning experiences and right cultural setting, schools can relatively quickly start to unleash those assets.
Notable Results
96%

Students who agreed with the statement: "nXu has allowed me to build friendships and connections that I would not have otherwise made."

95%

Students who said they are gaining skills valuable to their academic and professional future through nXu.

~20%

The increase that students reported in their sense of purpose over one year participating in nXu, compared to a ~2% increase reported among a control group not participating in the program.