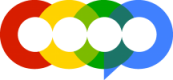 San Francisco, CA; New York, NY; Los Angeles, CA
Founded in 2014
coopcareers.org
Snapshot
COOP helps Black, Latinx, low-income, and first-generation college graduates develop the technical skills and social capital they need to jumpstart careers in upwardly mobile fields, overcoming underemployment.
Relationship Map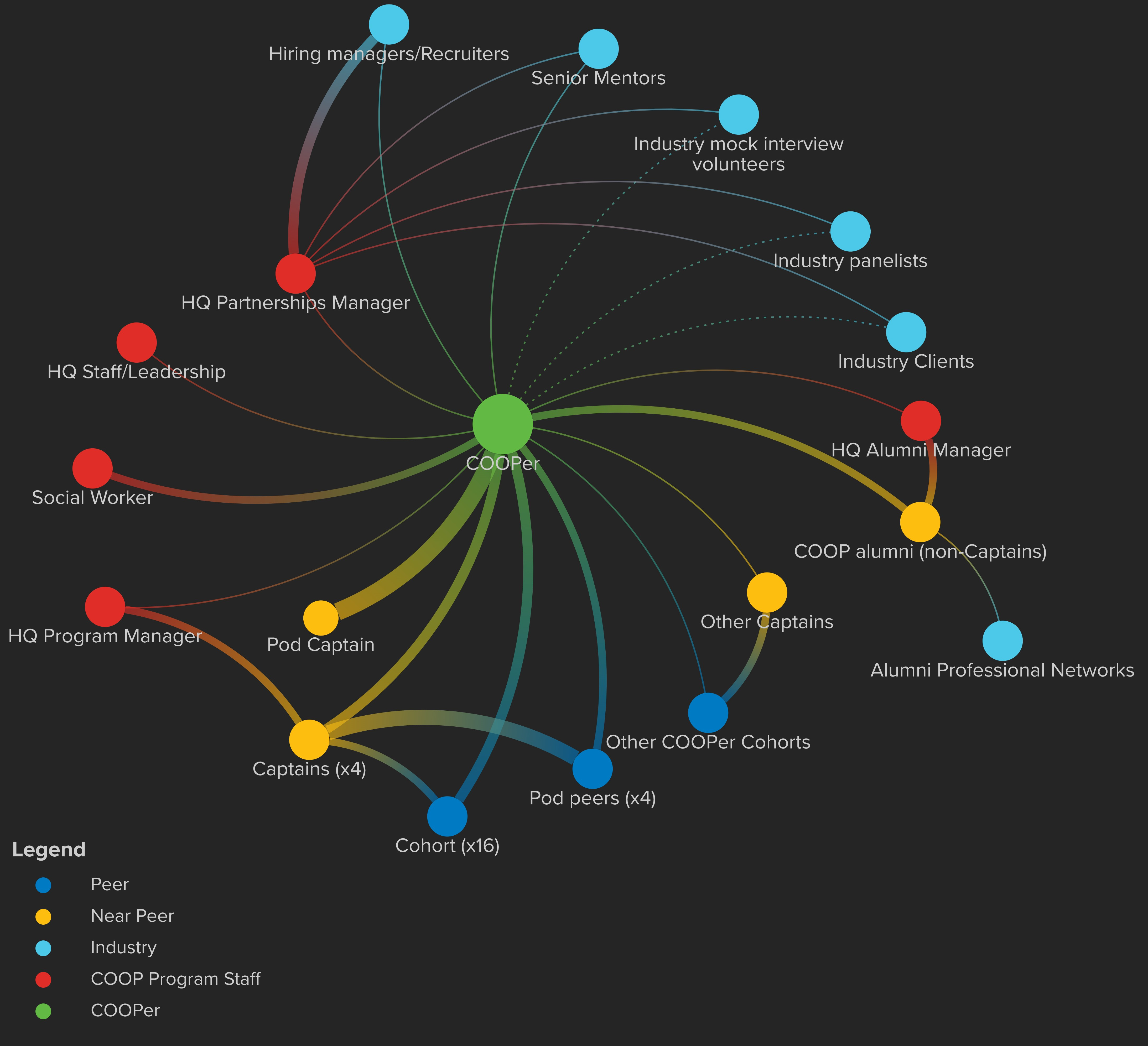 This KUMU map illustrates the web of relationships put within reach for students. Thicker lines indicate strong relationship ties (daily to weekly contact). Dotted lines indicate weak relationship ties (less frequent contact).
Stronger Ties
Cohort of 16 peers and four near-peer "Captains," divided into even closer-knit Pods of four COOPers and one Pod Captain.
Weaker Ties
COOP staff, industry volunteers, industry clients, and the broader COOP alumni network.
Key Design Insight
COOP helps cohorts foster a strong sense of community and identity, and leverages alumni both as near-peer leaders and as industry network nodes by encouraging continued engagement beyond its four-month program.
How COOP
builds social capital
COOP builds program participants', known as "COOPers," social capital by designing a cohort experience that fosters deep, enduring connections with peers and near-peer "Captains," who are themselves alumni of the program. These peer connections help COOPers overcome the isolation of underemployment and to lean on and learn from one another throughout COOP's apprenticeship programs. COOP also brokers connections into industry through alumni networking events, bringing together COOPers and program alumni working in industry who can provide guidance and referrals. Other connections occur through client projects, expert panels, and exclusive career events where COOPers meet hiring managers and employees at major tech firms.
The COOP Cohort Experience
Based on surveys that shaped the early program design, COOP discovered that many underemployed graduates had not formed strong peer networks in college because of factors such as commuting to school, focusing intently on academics over social aspects of school, or having to work. Moreover, once they graduated, underemployed job seekers—even from the same colleges—were rarely connected with one another. 
COOP designed its program to address that very lack of connection, placing COOPers in cohorts of 16 peers that meet nightly for 16 weeks. "The primary value upfront for new COOPers is their 15 peers," noted COOP founder Kalani Leifer. "The cohort solves for loneliness and disconnection among graduates who had jobs, had other family obligations, and didn't live in dorms."
Together, cohorts form a strong sense of team identity as they pursue the Digital Marketing, Data Analytics, or Tech Sales track. With over 200 hours of training, COOPers develop what the program labels as head (hard skills, 100 hours), heart (soft skills, including networking and confidence-building 50 hours), and hustle (job search skills, 50 hours). Along the way, program participants forge their strongest bonds with their peers and with four near-peer Captains—program alumni working full-time jobs in the appropriate digital industries while offering coaching to current COOPers. 
Cohorts are also divided into four "Pods" of four COOPers each, each led by one of the cohort Captains. By design, this "Pod Captain" is the strongest relationship between Captain and COOPer in terms of depth, time spent together, and accountability for progress through the program. Over the course of six "Pod Nights," Pod Captains lead semi-structured check-ins to connect with each of their COOPers individually, assessing progress and addressing any concerns or issues that have arisen.
COOPers also meet peers from other cohorts in their same geography. COOP organizes group training and social events for its various cohorts that run simultaneously in both New York and the Bay Area. These events account for roughly 20 of the 200 total hours of the program. Further, COOP is adding more dual cohort online learning experiences to ensure that COOPers continue to connect with peers across cohorts during the pandemic.
Relationships Built
Peer cohort: COOPers learn and work together in cohorts of 16 and remain together for the duration of the 200-hour training program. Students learn authentic networking through their cohorts and gain a sense of one another's strengths as they establish their personal brands. Together, cohorts also form a collective brand and strong team identity (e.g. "C45" connotates COOP's 45th cohort of 16 students). 
Captains: COOPers work closely with their four cohort Captains, who work collaboratively to guide cohorts through the 200-hour experience. Captains are alumni who serve as part-time, near-peer coaches. They receive training in management and facilitation skills to help them successfully guide their cohorts, balancing forging trust with exerting accountability if students fail to show up. Each Captain also serves as a Pod Captain, working more closely with four COOPers. By design, the Pod Captain is the strongest relationship between a Captain and a COOPer.
COOP alumni: COOPers benefit from maintaining active connections with non-Captain program alumni. As Leifer puts it, COOP alumni serve as the "fuel" of the program, playing a range of both formal and informal roles in the model. Alumni receive referral bonuses for bringing fellow COOPers into their companies and have access to COOP community events, providing current COOPers with more direct pipelines into employment and opportunities to network. 
Social workers: COOPers engage in 50 hours of what they dub "Heart" work as part of the curriculum, delving into personal narrative, identity, and eventually soft skills development. Social workers meet biweekly with Captains to help them in supporting their cohorts, and meet with COOPers in groups or individually as needed in both face-to-face (pre-COVID) and remote modalities.
Program Managers: COOPers interact regularly with Program Managers who oversee the Captains and ensure that programming runs smoothly. Leifer likens the Program Manager to the school principal at a small school, such that Program Managers don't necessarily form strong bonds with each student, but rather have an "institutional knowledge" to help Captains better serve COOPers. 
Industry mentors & volunteers: COOPers have access to a small pool of industry volunteers through a range of programming efforts. This includes a Senior Mentor, ideally a senior professional who comes in four times per cohort. Mentors ideally have a shared background and potentially have attended the same college as COOPers, work predominantly in the sector in which COOPers are being trained, and are able to convey strong "hustle knowledge" around job readiness, interviewing techniques, and industry connections.
Prospective employers & hiring managers: COOP hosts approximately three Employer Open Houses throughout the program, during which COOPers can meet with recruiters from prospective employers. The main recruitment event is COOP's Google Talent Match event which allows COOPers to engage in activities such as "speed interviewing" with potential industry employers. Some prospective employers also serve as Industry Clients, providing COOPers with opportunities to work on client projects as a way of applying and honing hard skills. This practice has ramped up during the pandemic, with Pods working with businesses for six weeks or more.
Design Tools & Tips
Tackling isolation before and in tandem with skills. Although many efforts focus on solving acute skills gaps, the first-order variable that COOP targets is the isolation that comes with underemployment. The curriculum and emphasis on cohorts both reflect this emphasis.
Community as a gateway to industry. Although accessing industry connections is crucial to successful job placements, COOP's model leans heavily towards building a community and investing in that community's success over the long term as it breaks into the tech industry, rather than just brokering third-party connections on behalf of that community. In Leifer's words, "It's COOP's community—in particular the growing alumni network—that is driving the model's success. [Alumni] infiltrate employers and take advantage of network effects." 
Alumni to drive scale. COOP's ability to scale hinges on leveraging alumni as ambassadors for COOP's brand to employers, instructors for the flagship program, and as a community that helps one another get by and get ahead once they enter the workplace. To generate this buy-in, COOP continues to serve and support alumni well beyond the four-month flagship program.
Notable Results
81%

COOP alumni who work full-time with salary and benefits, overwhelmingly in digital marketing and analytics.

3x

Factor by which full-time alumni salaries increase relative to their pre-COOP earnings.